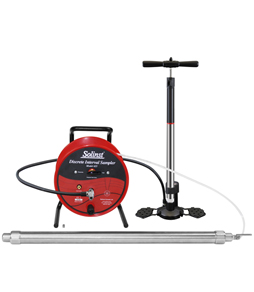 High quality, discrete zone samples
Profile wells or open bodies of water
Easy operation and transportation
No mixing of water from different levels
Avoids purging and disposal of purged water

The Model 425 Discrete Interval Sampler is a stainless steel groundwater sampler, with LDPE tubing mounted on a convenient reel. Discrete interval sampling is ideal for obtaining truly representative groundwater samples from below floating product layers, or for obtaining samples of the product itself. The Discrete Interval Sampler can also be used to profile open bodies of water, boreholes, and to collect samples from distinct levels or points of inflow. The Discrete Interval Sampler is a passive sampler that is pressurized when lowered and upon retrieval, to prevent water mixing at different levels. Designed to give zero purge samples.
Enhance Bioremediation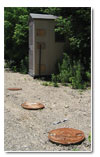 With the aid of 14 Waterloo Emitters, the site of a former gas station was remediated within 6 months of their installation. The Emitters diffused oxygen into the groundwater, to enhance aerobic bioremediation of BTEX and petroleum hydrocarbons.
Oil/Water Interface Probes

Reliable and robust
Accurate in both DNAPL and LNAPL
5/8" (16 mm) dia. Probe
Model 122 Interface Meters accurately measure product level and thickness in wells and tanks. Intrinsically safe for use in hazardous environments.